Biomarkers in Cardiovascular Disease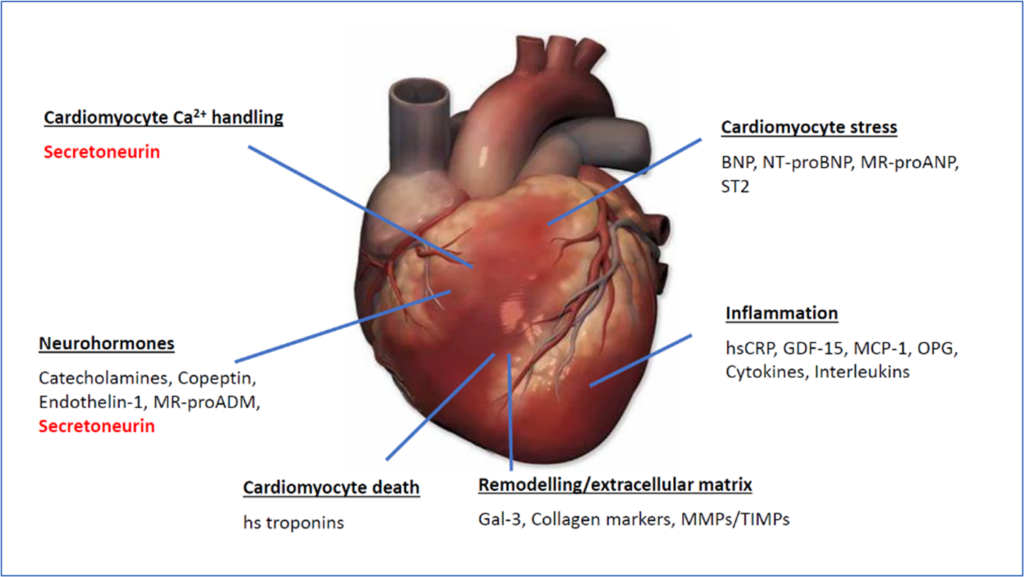 The main biomarkers7 that are currently used for the diagnostic and/or prognostic assessment of patients with suspected acute or chronic cardiac disease are the cardiac troponins I and T, for the diagnosis of acute myocardial infarction, and B-type natriuretic peptide (BNP) and the amino-terminal fragment of its prohormone, NT-proBNP, for the diagnosis and risk assessment of heart failure. As diagnostic tools, these biomarkers have many strengths and rather few limitations. Both troponin I and T have cardiac specific isoforms and their tissue specificity represents a great advantage compared to less specific markers such as myoglobin or creatine kinase. Although BNP can be found in other tissues, it was first detected in the brain, the predominant source of circulating BNP and NT-proBNP is the heart.
Cardiac troponin I and T are markers of myocardial injury whereas BNP and NT-proBNP are commonly considered markers of myocardial stress. Accordingly, these biomarkers reflect pathophysiological processes related to myocardial necrosis and myocardial failure, but do not directly reflect pathophysiological pathways leading to other major forms of cardiac disease such as cardiac arrhythmias, which could be considered a limitation. Another limitation of cardiac troponins and BNP/NT-proBNP is that their ability to identify patients who benefit from specific therapies for cardiac disease appears to be relatively limited. Serial NT-proBNP monitoring have not consistently been shown to improve outcome for patients with chronic heart failure.
Existing biomarkers predicting the risk of arrhythmias and sudden cardiac death do not have the required accuracy and this may result in higher mortality and over-treatment.
References:
Mark E. Anderson, Editorial: Will Secretoneurin Be the Next Big Thing? J Am Coll Cardiol 2015,65
Ottesen et.al, Secretoneurin is a novel prognostic cardiovascular biomarker associated with cardiomyocyte calcium handling. J Am Coll Cardiol 2015 Feb 3;65(4):339-351
Røsjø et.al, on behalf of the FINNSEPSIS and FINNALI Study Groups. Prognostic Value of Secretoneurin in Critically Ill Patients with Infections. Crit Care Med 2016 Oct;44(10):1882-90
Myhre et.al, Prognostic Value of Secretoneurin in Patients with Acute Respiratory Failure: Data from the FINNALI Study. Clin Chem 2016 Oct;62(10):1380-89
Røsjø et al, for the ALBIOS Biomarkers Study Investigators. Prognostic Value of Secretoneurin in Patients with Severe Sepsis and Septic Shock: Data from the Albumin Italian Outcome Sepsis Study. Crit Care Med 2018

Røsjø et al, GISSI-HF study.

Circulating secretoneurin concentrations provide independent prognostic information to established risk indices in patients with chronic heart failure. Eur Heart J, Volume 43, Issue Supplement_2, October 2022
Omland, Interview, Clinical Laboratory International, October 2022
Omland et.al. Prognostic Value Of Circulating Secretoneurin Concentrations In Patients With Cardiogenic Shock: The Cardshock Study. Poster presented at American College of Cardiology, New Orleans, March 4-6, 2023.